YOU WRITE, WE ADVISE
FROM SCRIPT TO PITCH DECK
OpenGate will help get your project professionally ready, using a real process based on consistency and professionalism. When you finish the development process with us, your pitch materials are ready to be put in front of the decision makers to greenlight your film!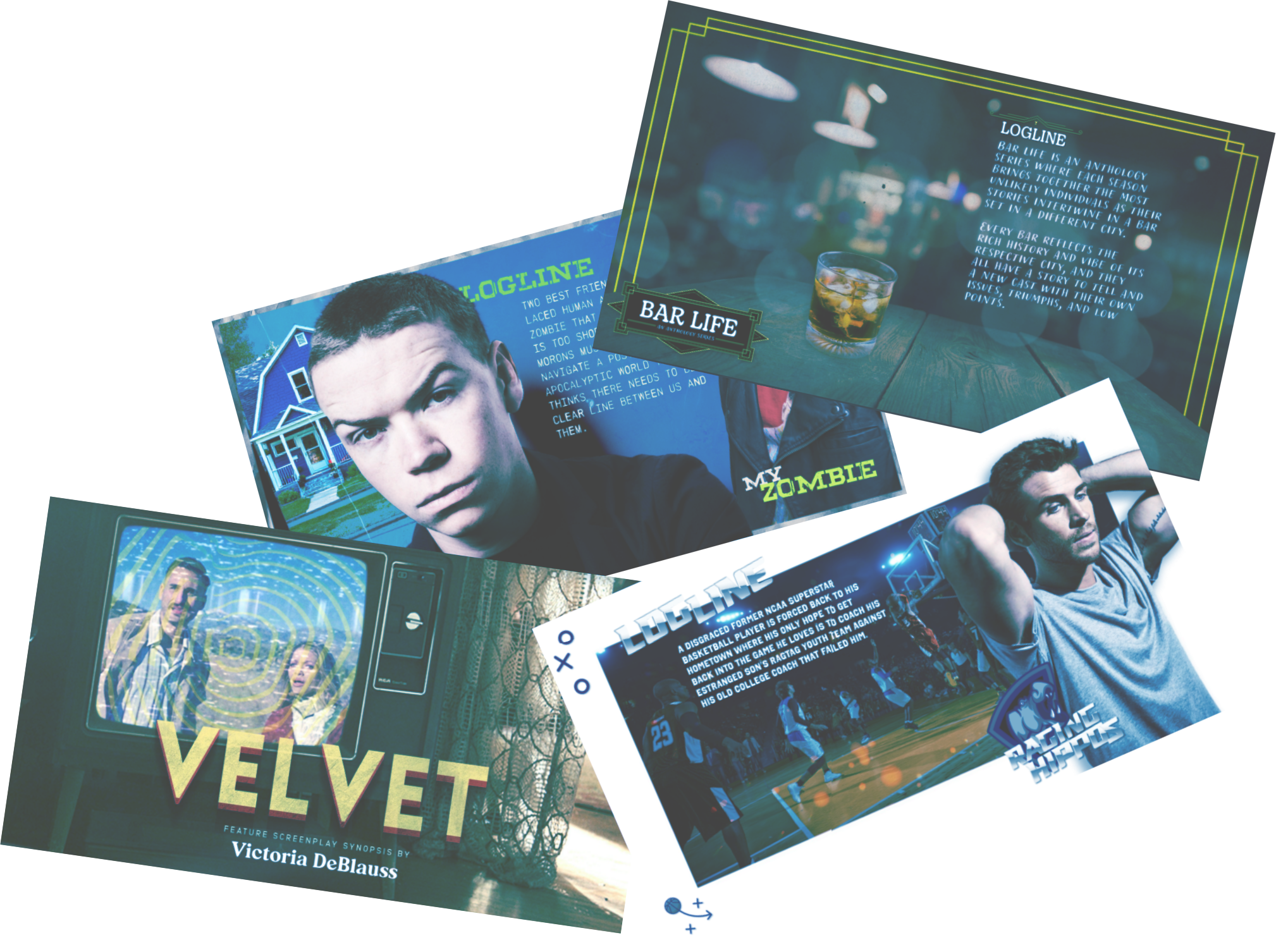 Our Services
QUICK BREAKDOWN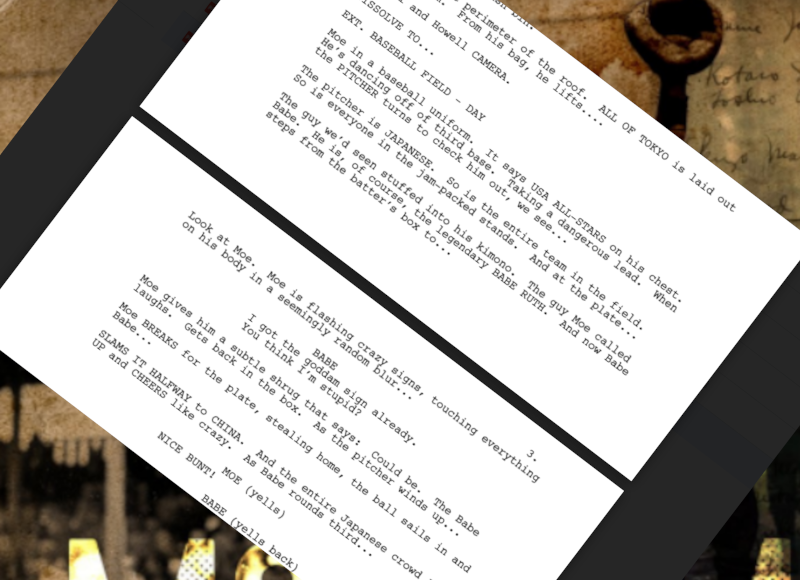 SCRIPT CONSULTING
Our development team will review your script and give you notes and feedback based on your story, characters, dialogue, story structure, and more.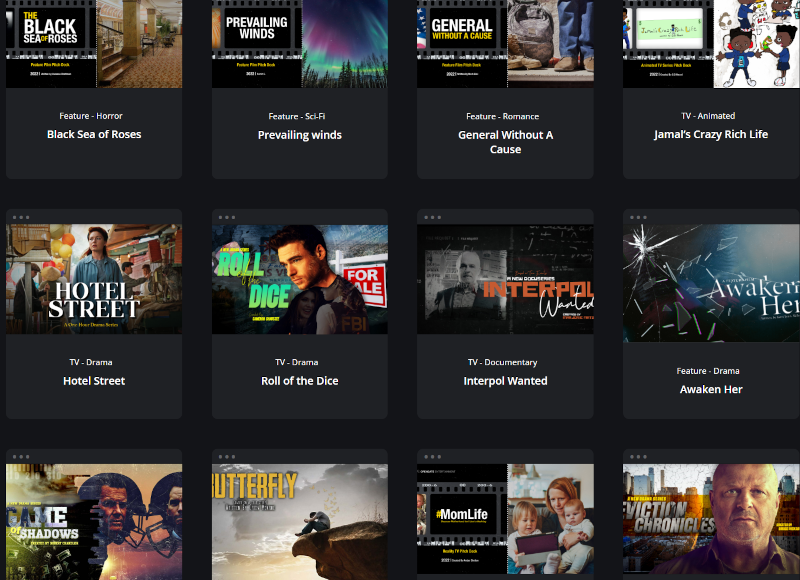 ONLINE CATALOG
With 250+ projects and counting, join our online catalog of OpenGate projects that is easily accessed by our distribution network of production companies, producers, and financiers.
"I found the Process to be paced perfectly, with the writer being able to pick and choose his/her own deadline removing some of the pressure that might come along with working on a script in this fashion. I also found the feedback I received to be top notch, and thought that you guys did wonders for bringing the script to a higher level."

Zach Zebrowitz

Good Morning Dove
"I am so happy I found OpenGate and I can't say enough good things about the entire Process. I had no idea coming into this what the Development Process was like and Shane did such an excellent job at explaining it and then guiding me through it. Shane also saw the potential of my creativity and what my story would become. Luke was invaluable in giving me feedback on my Pilot and teasing out all the details that would create a great story. I felt so supported, I learned so much, and I am super grateful to Shane and Luke who taught me what a strong Pilot and Story needs in order to stand out in this industry. I highly recommend OpenGate Entertainment."

Adrian Miranda

Gross Anatomy
"OpenGate helped me take my passion project from page to screen, believing in me and my story when others wouldn't. They've become such a significant part of my journey as an artist . They're the people who want to make your dreams come true. After our first successful short film, we've been working together to develop the feature version. The process has been nothing short of exceptional. There aren't enough thank you's to express my gratitude to this kick-ass team."

Victoria DeBlauss

Velvet
"OpenGate's services matched up with our goals! We had our concepts and our designs and OpenGate provided us with the blueprint to assemble a finished product for presentation. They helped us polish our project and revealed our project's true potential. The entire OpenGate Team were extremely easy to work with and they guided us to become self aware creators."

Otis Chambliss

Lion & Gorilla
"The team at OpenGate helped me develop a perspective and sense of viability for my documentary film project. There was a tremendous wealth of knowledge and expertise that was available and it came together during the development phase perfectly."

Brett Lyman

The Drug Tug
"I have enjoyed working with Opengate. I learned a lot in the process of how to properly develop a script. I do hope to work more with Opengate in the future."

Cody Evans

Langoliers
"As someone who's worked in the industry for years as an editor and has won screenplay contests in the past, I'll admit I was somewhat skeptical about working with OpenGate since it's so different from how the film industry usually works. But after putting them through the wringer with my questions and skepticism, I finally took the plunge - and I couldn't be happier."

Jimmy Miller

Slugger
"OpenGate Entertainment was a pleasure to work with, the whole team was very helpful and helped me to create a better script by giving me wise professional advice, And I think anybody that is trying to sell their script or improve it should definitely work with OpenGate Entertainment."

John Koen

Silent Rage
"I am just another person who believes they have a story worthy of television production. My dream drove me to research, then write multiple attempts to get my story told. Initially I thought the project was ready but I soon realized that I had no guidance on how to get noticed. If you are like me, a frustrated writer with a story to tell. If you understand today's demand for content. If you want professional guidance and support. Call, write, email, search OpenGate now!"

Scotty Spiers

Timeshare Kings
"I want to thank the diligent workers at OpenGate Entertainment for the great experience that I had working on my project, Double Click Velocity. This was my first time having a project of such magnitude where I ventured out for the possibility of a big screen or television show. This has truly been a learning experience, and I appreciate the coaches at OpenGate Entertainment for guiding me into making this project a great success. Thank you very much for your patience through my trial and errors. I have no regrets in my choosing OpenGate Entertainment to coach me into the success of my project. My experience and what I have gained is priceless. I would highly recommend OpenGate. Thank you!"

Sharon Harris

Double Click Velocity
Silver Screen
$

295

One - Time Fee

For those who know what they want but need a little push! Includes access to our premium templates for you to customize to your heart's desire. We provide you with the tools and instructions needed for you to create a pitch deck in a timely manner that suits your schedule. Upon completion, your project will be added to our Silver Catalog and presented to our first look partnerships.

Silver Screen package includes templates to the following:
Beat Sheet
Script
One-pager
Treatment for Film
Bible for Television Series
One (1) Development Meeting
Golden Globe
CREATE FULL PITCH SET WITH THE EXPERTS
$

95

month

for 12 months (Balance due when package is ready) or one-time fee of  $995.

For those who are ready to work with professionals and get their project in pitch perfect shape! Includes one on one advice on all aspects of the project's material. With one round of script notes, three development meetings and a creator spotlight video, our team will elevate your work, and writing, to the next level. Upon completion, your project will be added to our Gold Catalog and offered to our first look deals, along with submissions to our studio partners.

Golden Globe Package includes the following:

 
Template-Based Pitch Deck
Beat Sheet
Script
One Pager
Treatment for Film
Bible for Television Series
Logline Review
Creator Pitch Video Guidance
One (1) round of script notes
Three (3) development meetings
Platinum Package
Get Your Unique Pitch Deck
$

265

month

for 12 months (Balance due when package is ready) or one-time fee of  $2,995.

For those who are committed to making their top notch concept into a top tier pitch package. Our development team will work with you exclusively to ensure that every aspect of your pitch package is accounted for and in its best possible shape to show producers. You will receive a fully customized pitch deck utilizing enhanced graphic placements from our in-house graphic designer, two rounds of script notes, six development meetings to discuss the progress of your project and, lastly, presentation to any and all opportunities of the OpenGate distribution and production network.

Platinum Production package includes the following:

 
Customized pitch-deck
Beat Sheet
Script
One Pager
Treatment for Film
Bible for Television Series
Logline Review
Creator Pitch Video Guidance
Annotation of Script
Two (2) Rounds of Script Notes
Six (6) Development Meetings
Additional Offerings:
Half Hour Development Meeting ($120)
Polished One-Pager by Development Team ($350)
Grammar and Spell Check, script not included ($350)
Professional Table Reading of Script ($400)
Additional Round of Script Notes ($450)
Budgetary Breakdown ($1,000)
Pitch Deck Upgrade – applicable only to Silver Screen or Golden Globe packages